Nearly everyone who's been through the process knows all too well that revamping an existing website from the ground up is not for the faint-hearted. And with the demands of today's mobile device-driven society, such endeavors are all the more challenging . . . but, we're happy to announce that we survived and had a lot of fun along the way!
The newly redesigned Serco website comes complete with a fresh look and contains more updated content and useful information than ever before. You'll now be able to learn everything there is to know about Serco's wide range of warehouse and loading dock solutions which are a direct result of our ongoing commitment to innovation and product quality.
Undoubtedly, the most significant enhancement to the renovated Serco website is its responsive and intuitive layout. That enhancement alone increases the site's educational value and will help visitors like you choose the precise loading dock and warehouse equipment for your specific application.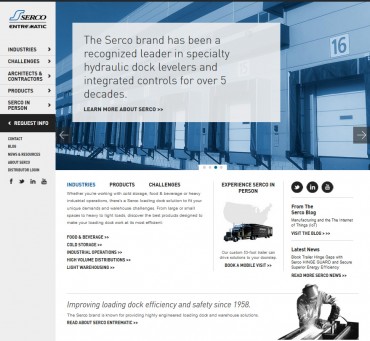 Designed for an optimal viewing experience
For viewers who might not be familiar with responsive web design, that essentially means that the Serco website can now be easily viewed on virtually any digital device known to humankind – from the desktop to the smartphone – and everything in between. The Serco website will adapt in size and layout to the computer device you're using to provide the most optimal viewing experience.
We're sure you'll enjoy navigating around the new Serco website to explore all of the new and exciting features we've built in to it. And to help guide you, here's a quick overview of some of the website's highlights:
A dedicated section that focuses on the key Industries in which Serco equipment is typically used – Food & Beverage, Cold Storage, Industrial Operations, High Volume Distributions and Light Warehousing. Each of these sub-sections contain links to the products best suited for a particular operation and/or that help address the unique obstacles in any given facility.
The website's Challenges section covers the common obstacles that many operations face, such as Energy Savings, Productivity as well as Safety & Security, and recommends specific products to help overcome those challenges.
Architects, contractors and engineers will find our dedicated Architects & Contractors page useful which provides a direct link to our CSPECS custom submittal package resource. This page also highlights our AIA-CES and other continuing education programs.
Our expanded Products section includes a variety of Serco products, including modular dock bridges, dock levelers, integrated control panels, a range of commercial and sectional doors, HVLS fans, aftermarket and accessories, as well as information on our growing and innovative 4SIGHT Logistics Solution yard and dock management software system.
The all new Serco-In-Person page provides a comprehensive overview of our special customer education program that includes the Entrematic Academy and our exciting Mobile Showroom that brings what Serco has to offer to your exact location.
And for downloadable brochures, product specs, FAQs, articles, case studies and press releases that you can easily filter depending on your needs, you'll find all of that and more on our News & Resources page.
We hope that you'll find the new Serco brand website easy to use and more importantly, informative as you seek out a solution or any number of solutions to your most pressing operational challenges.
We welcome any thought or insights you might have on the new Serco website! Feel free to share them with us at: marketing.ldp@entrematic.com.