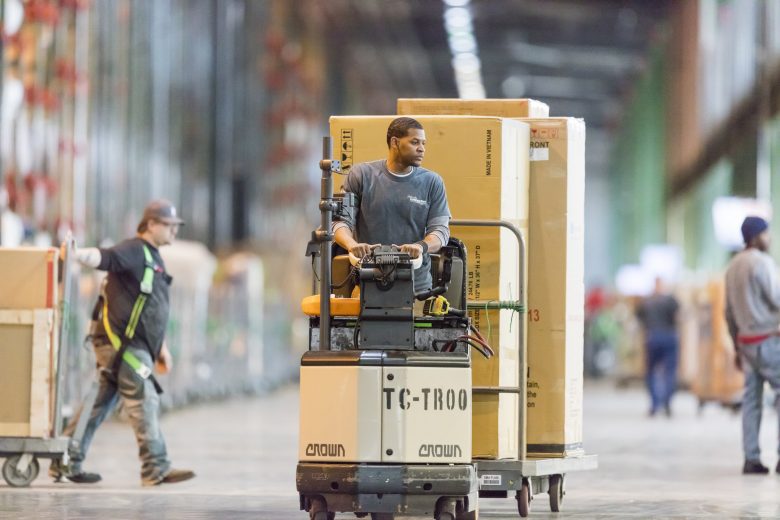 Not that long ago the typical working environment inside a warehouse or distribution center (DC) looked something like this:
Primarily relying on manual labor, well-organized products were either neatly stacked on floor pallets or on an elaborate network of racking.  Forklifts, pallet jacks, and sheer muscle power were the standard methods used to load or unload goods in and out of trailers parked at a facility's docks.
While pallets, racks, forklifts, pallet jacks and manual labor to a degree are still mainstays in nearly every warehouse or DC, high-tech automation—especially robotics—is quickly becoming the new normal.
10 years makes a big difference
Picking, sorting, inspecting, storing, handling and classifying products are all affected by the expanded use of automation and robotics.  And that's requiring an entirely new workforce with a different skill set compared to even 10 years ago.
Going well beyond manual labor, workers now need advanced mechanical skills, computer programming training, and data analytics, according to a recent report on NPR's All Things Considered.  These skills will enable workers to mesh with advanced robotics and other technologies that warehouses are increasingly relying on.
"We don't need people to move the boxes; we need people who can manage the robots that move the boxes, and people who can analyze the data from moving the boxes," emphasizes George Prest, CEO, Material Handling Institute (MHI) in The 2018 MHI Annual Industry Report: Overcoming Barriers to NextGen Supply Chain Innovation.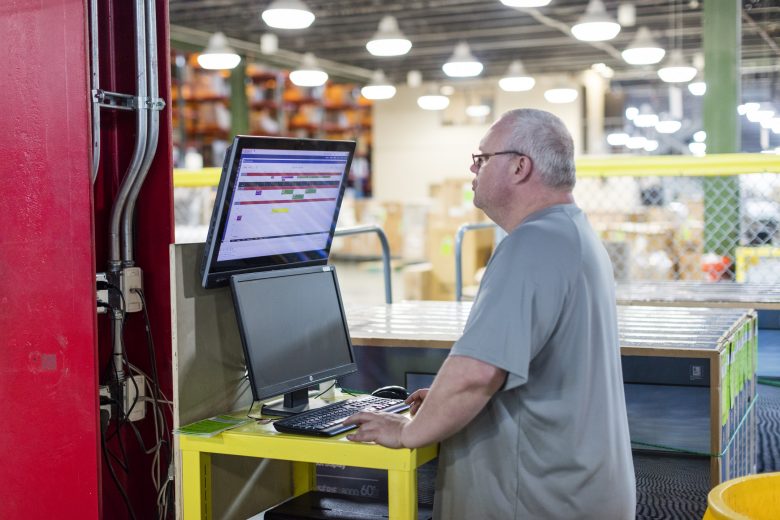 Two driving forces behind emerging technologies
So, what's driving the need for such new technologies?  Two primary drivers are increased competition and the critical need to improve efficiency.
According to survey results based on feedback from more than 1,100 supply chain professionals, The 2018 MHI Annual Industry Report states that only 34% of respondents have adopted such technologies so far.  However, in the next two years, adoption is anticipated to reach 53%.  And projecting out to 2023, adoption is predicted to reach upwards of 73%.
One popular technology that's been around for several years is the automatic guided vehicle (AGV).  Primarily limited to set pathways, AGVs themselves are experiencing a dramatic disruption due to emerging technology that's turning the AGV concept into what is now known as self-driving vehicles (SDVs).
Another driving force according to the NPR report indicates that the Midwest U.S. is experiencing a surge in companies moving their distribution centers closer to customers thanks to the growth of e-commerce.
Southwestern Ohio, in particular, is witnessing a "warehousing boom" which is a key part of the state's economic development strategy.  The location easily places companies in a position to reach a vast area of the country in only a 10-hour drive.  This is just one example of companies that are quickly re-engineering their distribution strategies so consumers receive their products even faster from manufacturers, often in less than 48 hours.
Best approaches to the skilled worker shortage
As thousands of new high-tech logistics jobs become available during the next few years, the big challenge is that means employers are facing a shortage of skilled workers.
So, what are some best practices that will help to close the supply chain skilled workforce gap as indicated by NPR's latest findings and The 2018 MHI Annual Industry Report?
Better aligning workforce training programs in high-tech jobs to the skills employers say workers now need.
Encouraging companies to collaborate with educational and vocational institutions along with industry associations to create needs-based curricula that help to build a talent pipeline.
Mark Cohen, who runs the Columbia Business School's Retail Studies Program emphasizes that companies are competing more and more on a large scale for workers who offer the right skill set.  "Communities that win have to support the development of the right skills," he points out.