May 29, 2018 – Carrollton, TX
Portable, wireless restraint system secures trailers and communicates operation status
Entrematic (Loading Dock Products) announces the introduction of its new Serco VERSACHOCK™ Wheel Chock Wireless Trailer Restraint System (Model SMC).  Serco VERSACHOCK provides a simple, cost-effective means of securing trailers while effectively communicating operation status with drivers and dock workers to ensure a safe and productive dock operation.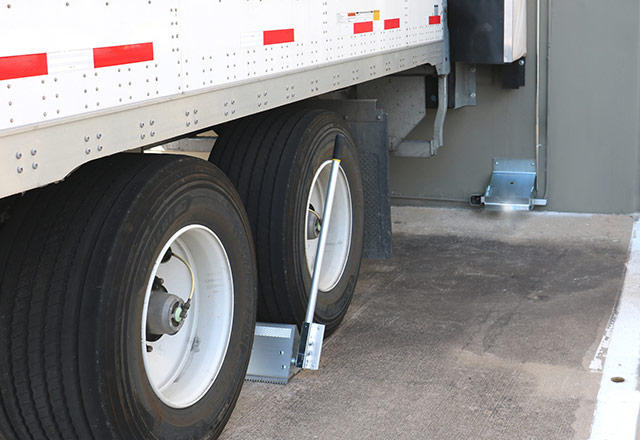 The Serco VERSACHOCK is a versatile vehicle restraint system that accommodates a wide variety of trailers and vehicles regardless of the condition or presence of an ICC bar. VERSACHOCK includes a patent pending, wireless engagement design that provides wheel detection at all engagement ranges and requires no chock cabling or permanent structure installed on the drive to secure the vehicle. In addition, Serco VERSACHOCK fulfills the requirements of OSHA Regulation 29 CFR – 1910.26(b)(2).
"The new VERSACHOCK is the latest innovation in the Serco line of wheel restraint solutions that ensure loading dock crews remain safe by ensuring trailers are properly secured at the loading dock before loading or unloading," said Justin Pearcy, Senior Marketing Specialist.
Serco VERSACHOCK key features include: wireless engagement detection, which provides wheel detection at all engagement ranges; aluminum extrusion construction with a clear hard anodized finish to resist corrosion; pivoting chock sensor arm (with reduced storage profile) that provides engagement detection; heavy-duty wheel trigger; ¼-inch heavy-duty galvanized steel cradle for secure storage; stainless steel sawtooth anchor that prevents chock movement under wheel engagement; industrial sensor unit with extended range retroreflective all-weather beam; and a high-intensity, all-weather white LED wheel engagement light that communicates to the operator when the chock is in proper wheel engagement.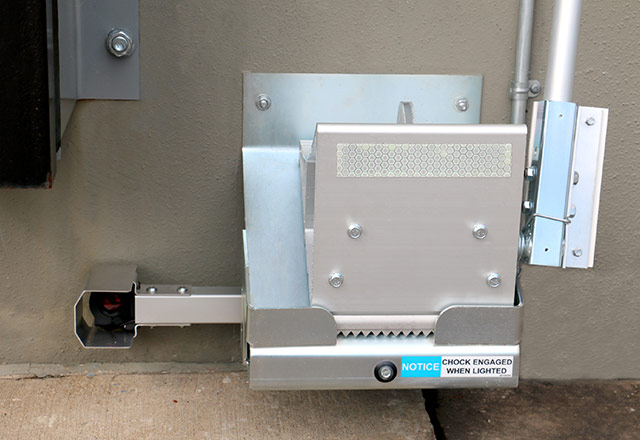 The communications system for Serco VERSACHOCK includes an interior Nema 4x control panel with red/green communications lights and an exterior LED red/green all-weather light package with a high visibility yellow/black driver's communication sign.
 About Serco
The Entrematic-owned Serco brand has been a leader in the industry for more than five decades, known for its durable and reliable loading dock equipment with a focus on hydraulic dock levelers, safety products and programmable control systems. Today you'll find a variety of Serco loading dock products to tackle challenges, such as energy efficiency, cold storage and industrial operations. Entrematic offers a comprehensive range of products for industrial, commercial, institutional and residential applications, including sectional doors, loading dock equipment, high-performance doors, residential garage doors, pedestrian door automation and openers. Built on nearly 200 years of accumulated expertise, Entrematic is the preferred partner of distributors and the number one choice of end user customers, providing innovative products, technical expertise and a portfolio of industry-leading brands including Amarr, Serco, Serco, Dynaco and Ditec.
###
Media Contact:
Justin Pearcy
Senior Marketing Specialist
Entrematic
Loading Dock Products
Phone: 972-389-1441
Email: justin.pearcy@entrematic.com
Website: www.sercoentrematic.com